A Taste of the South-West
By Julia Skinner
Travel around the regions of England through the pages of the books in our new 'A Taste of ...' series, and discover the delicious variety of our traditional dishes, as well as some of the stories behind the recipes. Your journey will be given added flavour by delightful period images from The Francis Frith Collection, showing the people and places of these regions in past times. Each title in the series explores a particular region, featuring some of its cities, towns and villages in glorious period photographs, with a selection of the local food and recipes that the area is known for. Many traditional dishes were devised to take best advantage of local produce, but also reflect the limited cookery techniques that were available - marvel at the skill of the housewife in times past, able to provide cheap and tasty meals with only a fire, a skillet and a cauldron to cook with, often producing the historical version of 'boil in the bag' meals! Approximately 30 recipes are included in each title, some traditional, some reflecting local products that the areas were famous for in the past, some linked to characters or historical personages or events, some versions adapted to suit modern tastes.
Free optional inscription available!

96

pages
ISBN

978-1-84589-455-9

Printed to order
Free Mounted Photo Print with this book!

These books include a voucher for a free Frith Photo Print. Turn to the back of your Frith book and find a voucher for a free mounted print of a Frith photo of your choice. Simply choose any photo from the book, return the completed voucher with a small payment for P&P. We will then print it in sepia and mount it for you in our Medium Standard mount.
The perfect, personalised gift

Add a personal dedication to the title page - free of charge. Most of our books are printed individually to order. You can add a personal message when you buy that will be printed on the title page at no extra cost, making our books a great gift or keepsake. This is a great option for birthdays, weddings, anniversaries and leaving or retirement.
A Recipe from this book
Dorset Apple Cake
Apples feature in many old recipes from Dorset and were grown in great numbers in the county in the past. In 1815 William Stevenson wrote in his 'General View of the Agriculture of the County of Dorset that 'there are upwards of 10,000 acres of orchard ground'. Dorset Apple Cake was officially voted Dorset's National Dish in 2006, yet there does not seem to be a definitive recipe. Some people make it with spices, some without. Some people include dried fruit, others prefer it without. Traditionally, cooking apples seem to have been used, but it can be made with dessert apples if necessary.
Taken from page 69 of A Taste of the South-West
Please click the image to view a larger version and print for yourself!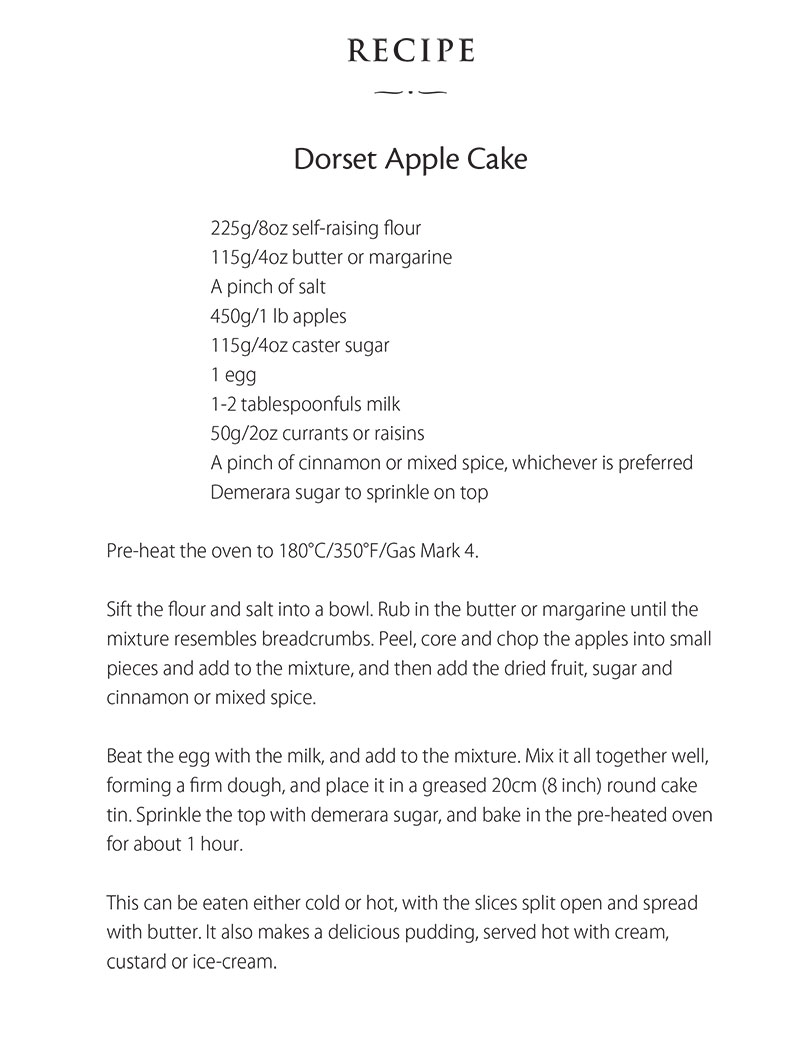 " I ordered a book with a personalised touch (from my youngest kids to their grandma). Having the option to personalise is one of the reasons I bought it. It was promptly delivered, no fuss, no delays. An absolutely beautiful pictorial historical account of my Mum's home town, which I am sure she will be delighted with.

Thank you very much Francis Frith."
Places Featured In This Book
These location listings are intended as a guide only. Whilst we try our best to publish accurate information, sometimes image listings change and locations are dropped. If one location is particularly important to you, please get in touch and we can double check.